If you're like most entrepreneurs, you tend to wrestle with 142 different issues at the same time. You feel stuck (that'll happen when you're trying to solve the same stuff over and over again). You've "hit the ceiling," an inevitable and perfectly normal phenomenon for growing businesses and their entrepreneurial leaders.
But it's also really frustrating. EOS® can help.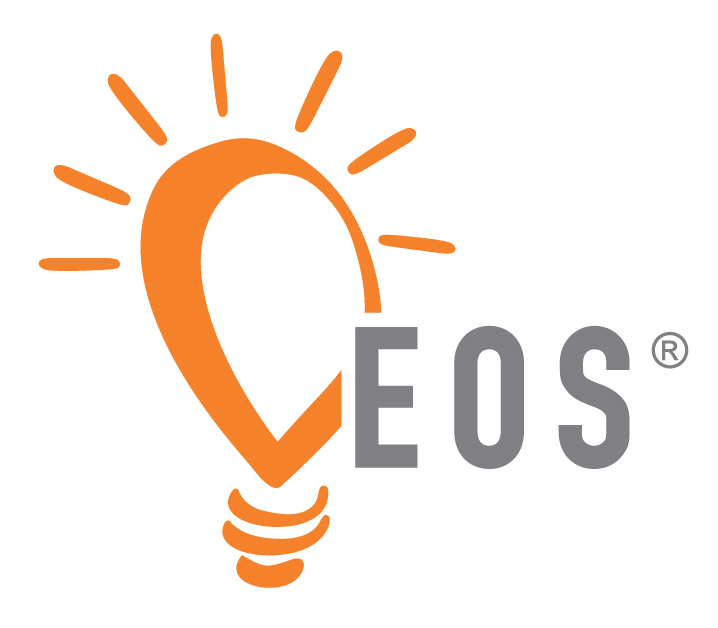 When you're stuck, complex programs and abstract theories just don't work.
You need Focus – the ability to identify and solve the few essential priorities from a very long list of obstacles, opportunities and problems.
You need Clarity – the ability to get everyone on the same page with where you're going and how you plan to get there.
And you need Simplicity – the ability to execute consistently well by following a handful of rules.
This is, in a nutshell, the Entrepreneurial Operating System®: a simple way of operating an entrepreneurial company that will help you clarify, simplify and achieve your Vision.
If you want fewer frustrations, better results and a more peaceful, profitable and enjoyable organization, contact Neil McLean, one of a limited number of Certified EOS Implementers™ in North America and the first in South Carolina.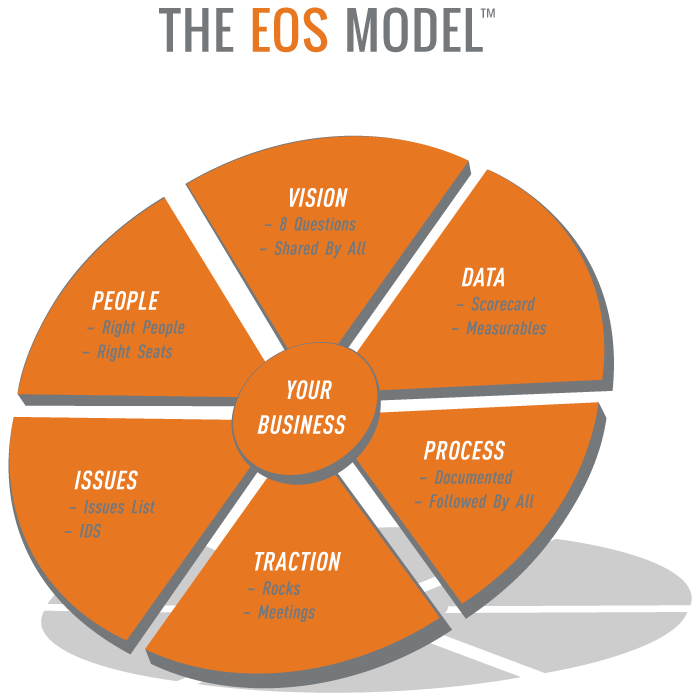 Strengthen the Six Key Components™ of your business using EOS.
What Is EOS®?
EOS® provides a complete, proven system with simple, practical tools to help your team clarify their Vision, get more Traction™, and become Healthy.
The EOS Toolbox™
The toolbox contains twenty simple and effective tools that allow leaders to get more done with less effort. Implementing all twenty tools will take you and your business to the next level.
The EOS Process™
Our proven process has guaranteed results… and has been perfected in more than 33,000 full day sessions with 5000 (and growing) companies.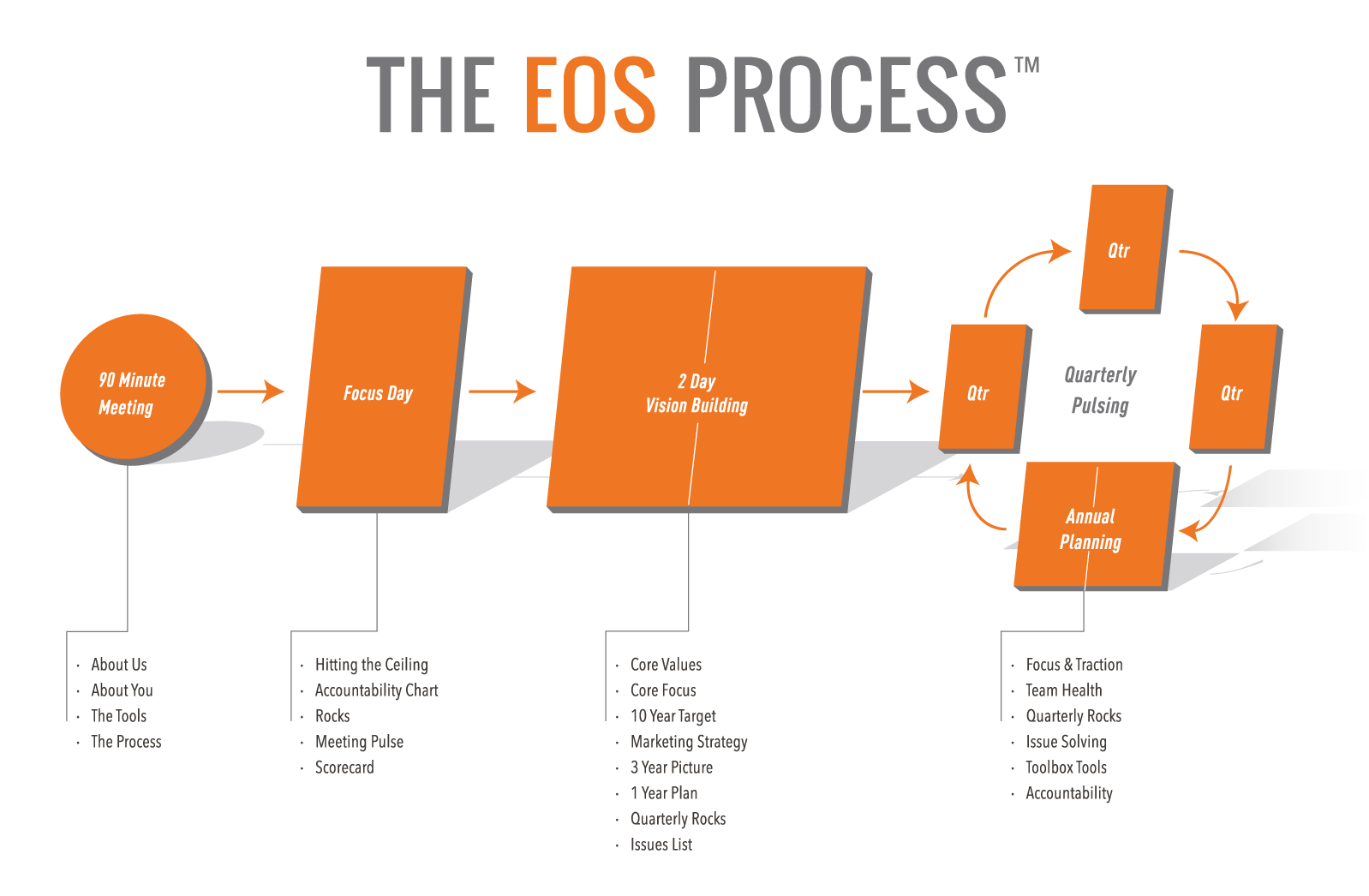 The EOS Process™ is simple, practical and realistic. Its timeless principles will become part of your DNA, creating the ability for your organization to eventually self-facilitate (if desired). No more flavor of the month, no theories without action, and no magic pills.
Step 1: 90-Minute Meeting
The EOS Process™ starts with a complimentary 90-Minute Meeting where we teach you and your leadership team the six components that you must strengthen to run a self-managing business. Ultimately, the meeting is intended to determine if there is a fit between you and the process. Request A 90-Minute Meeting
Step 2: Focus Day™
If we decide to work together, we move to the Focus Day™. The Focus Day™ is a full-day session that typically takes about 7 +/- hours.
During this session you will learn what to do when you're hitting the ceiling – and how to break through the ceiling each and every time. We will then establish clear roles and responsibilities with the Accountability Chart™.
From there we will establish your first round of Rocks (your 90-Day priorities), establish a Meeting Pulse™, and create your first Scorecard.
Step 3: 2-Day Vision Building
Once the Focus Day™ is complete, we move to Vision Building™. We start with a review of all the Focus Day™ tools and all the work you've already done. Then we begin answering the 8 Questions™  of the Vision/Traction Organizer™, or V/TO™.
During your 2-Day Vision Building session, we will complete the following:
Core Values
Core Focus™
10-Year Target™
Marketing Strategy
3-Year Picture™
1-Year Plan
Quarterly Rocks
Issues List
At this point, you and your leadership team are 100% on the same page with the vision for your organization and how you will get there.
Step 4: Quarterly Pulsing™
In our Quarterly Pulsing™ sessions, we will meet once per quarter in a full-day session to address the following items:
Review quarterly results and numbers
Review the V/TO to make sure the team is 100% on the same page
Explore and learn new EOS® tools
Reset our 90-Day priorities with a new set of Rocks
Spend a lot of time in IDS™ (Identifying, Discussing and Solving Issues) to make sure we address the biggest issues
Step 5: Annual Planning
The Annual Planning session is two consecutive days with your leadership team working on the following:
Review of annual goals and results
Team Health
Organizational Checkup™
W.O.T Analysis
3-Year Picture™
1-Year Plan
Quarterly Rocks
Facilitated Issues Solving
Take The Organizational Checkup Now
Where is your company strong, and where is it weak? Gauge your company's strength by taking this quick 20-question quiz. The results might surprise you.